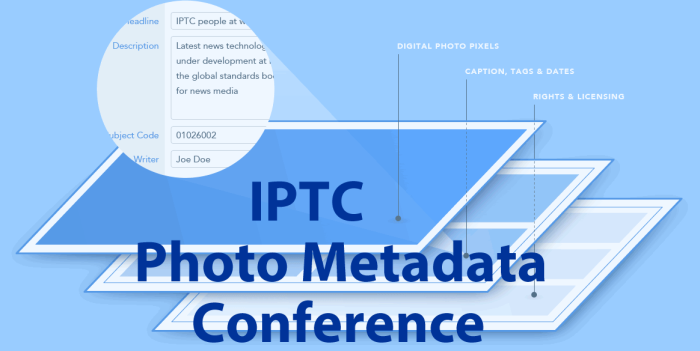 IPTC Photo Metadata Conference 2022:
Photo Metadata in the real world
Thursday 10 November 2022: 1500 – 1800 UTC
The 2022 Photo Metadata Conference was held again online, and was free for anyone to attend. 
Videos from the event are now available.
Full Agenda
All times are in UTC. 1500 UTC is 1500 in London, 1600 in Paris/Berlin, 1700 in Helsinki/Tallinn/Riga
15.00 – 15.10 UTC

Introduction and welcome

Welcome from Brendan Quinn, Managing Director of IPTC and moderator of the event.

15.10 – 16.00 UTC

Adoption of IPTC Accessibility properties

Guests from Smithsonian, Camera Bits and Adobe present their work on implementing the accessibility properties added to IPTC Photo Metadata Standard in 2021.

Speakers:

Session moderated by Caroline Desrosiers, Founder and CEO, Scribely

16.00 – 16.30 UTC

Software Supporting the IPTC Photo Metadata Standard – updates to IPTC Standard

David Riecks and Michael Steidl, co-leads of the IPTC Photo Metadata Working Group, present their work on IPTC's database of software supporting the Photo Metadata Standard, showing compatibility between software for individual properties. Recent updates to the IPTC Photo Metadata Standard are shown too.

16.30 – 17.15 UTC

Use of C2PA in real-world workflows

Demonstrating progress made in implementing C2PA technology to make images and video tamper-evident and to establish a provenance trail for creative works.

Session moderated by Brendan Quinn, Managing Director, IPTC

17.15 – 18.00 UTC

Metadata for AI images

Introduction to synthetic media / generative AI images, including copyright and ownership issues behind the images used to train the machine learning models involved – Brendan Quinn / Mark Milstein

Panel session: How should IPTC support AI and generative models in the future? (Questions include whether we should identify which tool, text prompt and/or model was used to create a generative image? Should we include a flag that indicates content was created using a "green", copyright-cleared set of training images?)

Speakers:

Sylvie Fodor and Serguei Fomin, CEPIC (download Sylvie's slides)
Dmitry Shironosov, Everypixel
Martin Roberts, Mobius Labs

Session moderated by Mark Milstein, Microstocksolutions / vAIsual

18.00 UTC
Session close: Brendan Quinn, Managing Director, IPTC
Previous Conferences
The IPTC Photo Metadata Conference has been held annually for exactly 15 years, the first was in 2007.
See what was discussed at least year's event watching full video recordings of each session at the 2021 IPTC Photo Metadata Conference.
Discover what was presented and discussed at previous meetings.