Browser extensions for IPTC Photo Metadata
We have created browser extensions for Google Chrome and Mozilla Firefox that help users to view metadata embedded in images.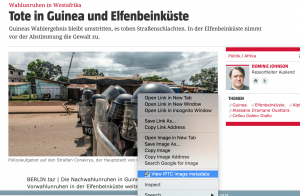 The "IPTC Photo Metadata Inspector" extension allows users to simply right-click on any image to view metadata for that image using IPTC's GetPMD tool.
Google Chrome users: install here via the Chrome Web Store
Firefox users: install here via the Firefox Browser Add-Ons
Please note that the Inspector only works with simple images: it won't work with embedded video thumbnails or tweets, for example.
Both browser extensions are quite new so there may be some issues. If you discover any problems, please contact Brendan Quinn at mdirector@iptc.org.