Categories
Archives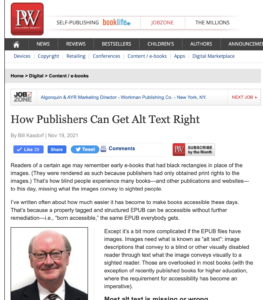 Bill Kasdorf, IPTC Individual Member, has written about IPTC Photo Metadata in his latest column for Publishers Weekly.
In the article, a double-page spread in the printed version of the 11/22/2021 issue of Publishers Weekly and an extended article online, Bill references Caroline Desrosiers of IPTC Startup member Scribely saying "if publications are born accessible, then their images should be born accessible, as well."
The article describes how the new Alt Text (Accessibility) and Extended Description (Accessibility) properties in IPTC Photo Metadata can be used to make EPUBs more accessible.
Bill goes on to provide an example, supplied by Caroline Desrosiers, of how an image's caption, alt text and extended description fulfil very different purposes, and mentions that it's perfectly fine to leave alt text blank in some cases! For more details, read the article here.