Categories
Archives
Next Thursday 10th March, IPTC members will be presenting a webinar on IPTC Media Topics and Wikidata. It will be held in association with the European Broadcasting Union as part of the EBU Wikidata Workshop.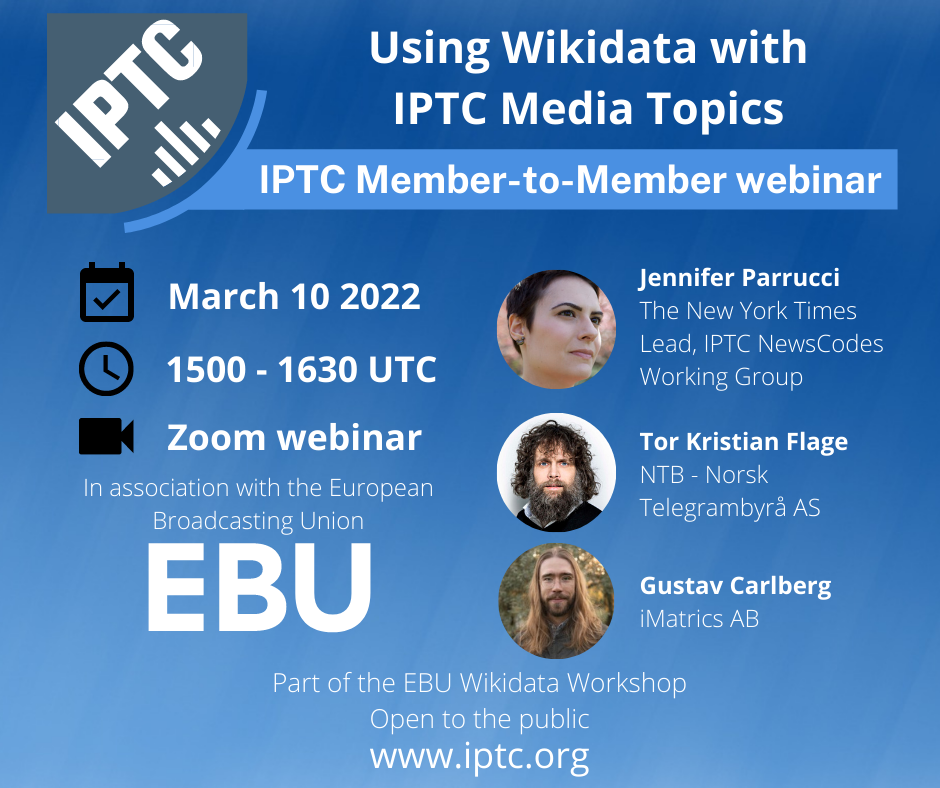 The webinar is part of our series of "member-to-member" webinars, but as this is a special event in conjunction with EBU, attendance is open to the public.
The IPTC component of the workshop features Jennifer Parrucci of The New York Times, lead of the IPTC NewsCodes Working Group which manages the Media Topics vocabulary, and Managing Director of IPTC Brendan Quinn, introducing Media Topics and how they can be used with Wikidata. Then Tor Kristian Flage of Norwegian agency NTB and Gustav Carlberg of vendor and IPTC member iMatrics will present on their recent project to integrate IPTC Media Topics and Wikidata into their newsroom workflow.
Other speakers at the workshop on March 10th include France TV, RAI Italy, YLE Finland, Gruppo RES, Media Press and Perfect Memory.
Register to attend the full workshop (including the IPTC webinar) for free here.
Next Tuesday, IPTC will be part of a panel of guests speaking at a webinar hosted by CEPIC (the Coordination of European Picture Agencies – Stock, Press and Heritage) and EANA (the European Alliance of News Agencies).

Brendan Quinn, Managing Director of IPTC will be joining the webinar to talk about IPTC's involvement in C2PA, the Coalition for Content Provenance and Authenticity, in particular the draft technical specification which was released this month. Brendan will be talking about how C2PA aims to solve part of the problem around news provenance, informing users when news comes from a reputable source.
The other speakers are Mathieu Desoubeaux from IMATAG, Stefan Voss, Verification Officer at dpa, and Yacine Le Forestier, Head of Europe fact checking at AFP.
The other speakers are all from IPTC member organisations, and IPTC shares many members with both CEPIC and EANA, so we are very happy to take part in this event.
Registration for the event is still available. The webinar will take place on Tuesday 21 September from 1700 to 1800 CET, but is open before and after for attendee networking and discussion.
In association with World News Day, IPTC is presenting a webinar on our efforts to help news organisations address trust, credibility and misinformation via our standards.
Through our work with The Trust Project, Reporters Sans Frontières' Journalism Trust Initiative, Credibility Coalition and others, we have been able to create extensions to IPTC standards to enable news organisations to express various "Trust Indicators".
Learn more about how this works and how it can lead to a more trustworthy news media.
The webinar takes place as part of World News Day on Monday September 28 at 12:00 UTC (13:00 BST, 1400 CEST, 1500 EEST, 0800 US East Coast, 0500 US West Coast) and will be available on demand.
Register for the webinar here via Zoom
UPDATE: The webinar has now ended, but you can view the recording by registering on the link above.
For information on other World News Day events, please see the main site at https://worldnewsday.org/
Thanks to everyone who attended our first webinar on Thursday, with Brendan Quinn providing an introduction to IPTC, explaining what we do, where we have come from and where we are going.
For those who missed it, you can view it on demand by registering via this site.
Please let us know what you thought! Your feedback is always welcome, and we would particularly like to hear ideas for future webinars.
All feedback can be sent to office@iptc.org.