Categories
Archives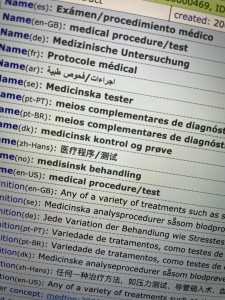 The IPTC NewsCodes Working Group has now released the Q4 update to Media Topics, IPTC's subject taxonomy used for classifying news content.
The main changes were made to the religion branch as part of our regular review cycle, and to sport events after discussing the terms with the Sports Content Working Group. This means that we have retired 29 terms and added 15 others. So in total we currently have 1,159 active terms in the vocabulary.
All new terms were created in en-GB and en-US versions, and have translations in Norwegian thanks to NTB. Other language translations will be added as they are contributed.
Below is a list of all of the changes.
New terms:
Retired terms:
Label changes:
Definition changes:
Hierarchy moves:
As always, the Media Topics vocabularies can be viewed in the following ways:
For more information on IPTC NewsCodes in general, please see the IPTC NewsCodes Guidelines.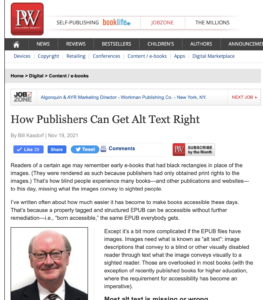 Bill Kasdorf, IPTC Individual Member, has written about IPTC Photo Metadata in his latest column for Publishers Weekly.
In the article, a double-page spread in the printed version of the 11/22/2021 issue of Publishers Weekly and an extended article online, Bill references Caroline Desrosiers of IPTC Startup member Scribely saying "if publications are born accessible, then their images should be born accessible, as well."
The article describes how the new Alt Text (Accessibility) and Extended Description (Accessibility) properties in IPTC Photo Metadata can be used to make EPUBs more accessible.
Bill goes on to provide an example, supplied by Caroline Desrosiers, of how an image's caption, alt text and extended description fulfil very different purposes, and mentions that it's perfectly fine to leave alt text blank in some cases! For more details, read the article here.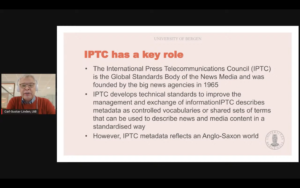 "Metadata is the wheel in the digital business model," according to Carl-Gustav Linden of University of Bergen in Norway. "We can use it to combine the right content with the right readers, listeners and viewers. That's why metadata is so essential."
Professor Linden was speaking at the JournalismAI Festival taking place this week, hosted by the Polis think-tank at the London School of Economics and Political Science. The JournalismAI project is a collaboration between POLIS and newsrooms and institutes around the world, funded by the Google News Initiative.
We are very happy to see several mentions of IPTC standards and IPTC members, particularly the New York Times and iMatrics. The New York Times is seen as a forerunner in content classification, with Jennifer Parrucci (lead of the IPTC NewsCodes Working Group) giving presentations recently about their work. iMatrics supplies an automated content classification system based on IPTC Media Topics which can be used as part of editorial workflows.
One thing we would like to note is that Professor Linden mentions that the IPTC vocabularies are influenced by our background in US-based news organisations, citing an example of the schools terms being focussed on the US system. We are happy to say that in a recent update to IPTC Media Topics we clarified our terms around school systems, making the label names and descriptions much more generic and based on the international schools classifications.
This change was the result of many IPTC member organisations working together from different parts of the world, including Scandinavia, to come to a result that hopefully works for everyone (and of course, each user of Media Topics is welcome to extend the vocabulary for their own purposes if necessary). This is an example of the great work that takes place when our members work together.
The JournalismAI festival continues until Friday this week. All sessions from the festival are available on YouTube.
Thanks again to Polis and the JournalismAI team for giving us a mention!