Categories
Archives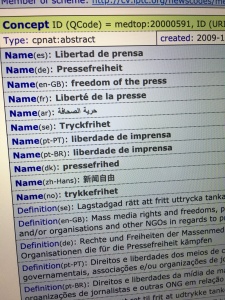 The IPTC NewsCodes Working Group has been very busy in the last six months. At the IPTC Spring 2020 Meeting, we announced three new language translations of our core Media Topics vocabulary, many term updates, and a new NewsCodes Guidelines document.
Thanks to Ritzau, we added Danish translations of Media Topics in March. Since then we have also added Chinese (Simplified) translations of Media Topics, with great thanks to the team at Xinhua News Agency. We also received a contribution of IPTC Media Topics in Norwegian from NTB.
You can see HTML browsable versions of the new languages here:
As usual, IPTC Media Topics (and all other NewsCodes vocabularies) are available in SKOS format (RDF/XML and Turtle) as well as HTML and as NewsML-G2 Knowledge Items.
The Working Group has also made some updates to the vocabularies based on suggestions from Ritzau, Xinhua and NTB and also some fixes (such as removing duplicate wikidata mappings) suggested by ABC Australia. As with all of our MediaTopics updates, we have not changed the meaning of any existing terms, but we add new terms, clarify the meaning of terms and move terms to put them in more appropriate places in the hierarchy.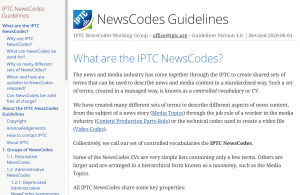 We have also developed the NewsCodes Guidelines document,  which explains what are the IPTC NewsCodes, how we decide whether to add new terms, how the NewsCodes are maintained and how you can contribute suggestions. We welcome comments and suggestions on the guidelines document, please get in touch via the public iptc-newscodes@groups.io discussion group with your thoughts.
And finally, we have made some updates to the Genre NewsCodes vocabulary, to include some suggestions from members plus some suggestions based on our work with the Trust Project and the Journalism Trust Initiative. We have added genres for Fact Check, Satire, Sponsored content and more. Please see the genres vocabulary at http://cv.iptc.org/newscodes/genre/.