Categories
Archives
This is the report of Day 1 of the IPTC Autumn 2018 Meeting in Toronto. See the report from Day 2 and the report from Day 3. All the presentations are available to IPTC members in the IPTC Members Only Zone.
This week we are in Toronto for the IPTC Autumn Meeting. Unfortunately the weather is not as warm as it was last week but we are still enjoying ourselves immensely and learning a lot from each other!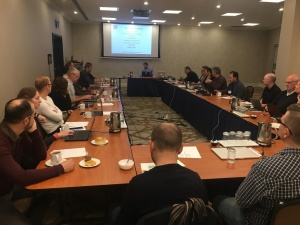 All presentations are available to members on the members-only event page.
After an introduction from Chair Stuart Myles, we heard an update from Michael Steidl, chair or the Video Metadata and Photo Metadata Working Groups. Michael updated us on work promoting the IPTC Video Metadata Hub standard, talking to manufacturers and software vendors at events like IBC in Amsterdam, and pulling together use cases and success stories from existing users of the standard.
On the IPTC Photo Metadata Standard, Michael shared news about the fact that Google Images now displays IPTC Photo Metadata project and the press we have received since that time. Also we are working on new technical features in the standard such as metadata for regions within images. We're looking for use cases and requirements for storing metadata against regions, so if you have any input, please let Michael, or IPTC Managing Director Brendan Quinn, know!
Dave Compton of Refinitiv, formerly the Financial & Risk business of Thomson Reuters, chair of the NewsML-G2 Working Group, gave an update on recent progress and work towards NewsML-G2 version 2.28 which will be released soon. It will incorporate features for the requirements of auto-tagging systems and a new experimental namespace to be used for potential new updates to NewsML-G2 that aren't yet ready to be added to the full specification.
The experimental extension to NewsML-G2 is already put in use by Gerald Innerwinkler of APA and Robert Schmidt-Nia of DPA who presented an update on a current project between IPTC and MINDS International looking at metadata for suggesting news stories to users based on psychological and emotional characteristics, plus properties like the likely timeliness for different types of user. Based on the Limbic Map concept from marketing theory, the new proposals are in testing right now.
Chair of the Sports Content Working Group, Johan Lindgren of TT in Sweden, presented an update on SportsML and the work on SportsJS which is nearing a final version now that JSON Schema is soon able to support some new properties that we need to be able to validate Sports content.
Stuart Myles appeared again in his role as chair of the Rights Working Group, updating us on RightsML and where we can take it in the future, including the potential to use RightsML as the basis of blockchain-based rights management systems.
Then we had a focus on "new-generation editorial systems" including a great presentation from Peter Marsh of new IPTC member NEWSCYCLE Solutions on the history and state of the art of content management systems from Tandem-based SII workstations in the 1980s, all the way through to the current wave of headless CMSs as illustrated by this project by The Economist.
Stephane Guerrilot of AFP finished day one presenting AFP's new-generation system, Iris, which enables AFP customers and partners to search for stories, video and images.
Stay tuned for a report on Day Two!