Categories
Archives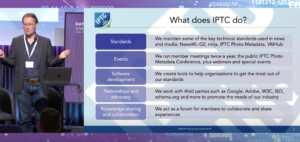 IPTC Managing Director Brendan Quinn presented at the European Broadcasting Union's Data Technology Seminar last week.
The DataTech Seminar, known in previous years as the Metadata Developers Network, brought over 100 technologists together in person in Geneva to discuss topics related to managing data at broadcasters in Europe and around the world.
Brendan spoke on Tuesday 21st March on a panel discussing Artificial Intelligence and the Media. Brendan used the opportunity to discuss IPTC's current work on "do not train" signals in metadata, and on establishing best practices for how AI tools can embed metadata indicating the origin of their media.
The work of C2PA, Project Origin and Content Authenticity Initiative on addressing content provenance and tamper-evident media was also highlighted by Brendan during the panel discussion, as this relates to the prevalence of "deepfake" content that can be created by generative AI engines.
On Wednesday 22nd March, Brendan spoke in lieu of Paul Kelly, lead of the IPTC Sports Content Working Group about the IPTC SportSchema project. The session was called "IPTC Sport Schema – the next generation of sports data." An evolution of IPTC's SportsML standard, IPTC Sport Schema brings our 20 years of experience in sports data markup to the world of Knowledge Graphs and the Semantic Web. The specification is coming close to a version 1, so we were very proud to present it to some of the world's top broadcasters and industry players.
The IPTC SportSchema site sportschema.org now includes comprehensive documentation of the ontology behind sports data model, examples of how it can be queried using SPARQL, example data files and instance diagrams showing how it can be used to represent common sports such as athletics, soccer, golf and hockey.
We look forward to discussing IPTC Sport Schema much more over the coming months, as we draw close to its general release.
EBU members can watch the full presentation at the EBU.ch site.