Categories
Archives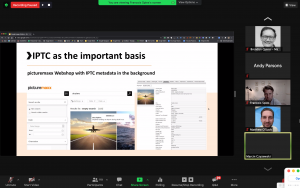 We're very happy that we can make public some of the video recordings from the recent IPTC Photo Metadata Conference 2020, held on Tuesday 13 October 2020.
Thanks to all who attended – we had over 200 registrations for the webinar.
The videos are embedded below or can be viewed directly on YouTube by following the link above the embedded video.
Introduction
Brendan Quinn, Managing Director of IPTC, opened the day with an introduction to IPTC and an overview of what was to come (10 minutes):
Michael Steidl, Photo Metadata WG lead on IPTC Photo Metadata
Michael Steidl presented on why we should care about photo metadata in his presentation "About IPTC Photo Metadata" (48 minutes including Q&A)
Google's Licensable Images features
Francois Spies, a Product Manager for Google Images in Mountain View, presented on the Licensable Images features which they developed in consultation with IPTC this year.
After Francois' presentation, Matthew O'Such, VP SEO for Getty Images and Marcin Czyzewski, CTO and Picturemaxx joined us to share their views on implementing the changes to IPTC Photo Metadata required to power the Google Licensable Images feature. Then we had a Q&A session including Michael, Francois, Matthew and Marcin.
Unfortunately, Google asked us not to make a recording of their presentation or the panel available. However the resources that Francois shared are all available via our Quick Guide to IPTC Photo Metadata and Google Images.
Andy Parsons on the Content Authenticity Initiative
Next up, Andy Parsons (Adobe) introduced the Content Authenticity Initiative (47 minutes including Q&A and a wrap-up of the day from Brendan Quinn):
Thanks again to all our speakers and panellists for their contributions. We're already looking forward to next year's event!
Currently next year's IPTC Photo Metadata Conference is scheduled to be in late May 2021 in Mallorca, Spain in conjunction with the CEPIC Congress 2021. If that proves impractical then we will host another online event.