Categories
Archives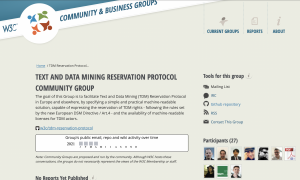 Brendan Quinn, Managing Director of IPTC, spoke on 20 April 2021 at the regular meeting of the W3C Text and Data Mining Reservation Protocol Community Group.
The Community Group, open to anyone to join, is discussing how to "facilitate a technical protocol to reserve a publisher's right for content to be made available for text and data mining (TDM). The solution should be capable of expressing the reservation of TDM rights – following the rules set by Article 4 of the new European DSM Directive – and the availability of machine-readable licenses for TDM actors."
The Community Group is looking at various technologies for representing machine-readable licences, and Brendan presented IPTC's RightsML as a possible option. Based on W3C's ODRL, RightsML allows rights holders to specify permissions, prohibitions and constraints on usage of all types of media content, so it may be a good candidate for representing rights around data mining.
Laurent Le Meur, Chair of the TDM Reservation Protocol Community Group and previous contributor to IPTC, presented at the IPTC Autumn Meeting in 2020 to discuss the proposed project.