Categories
Archives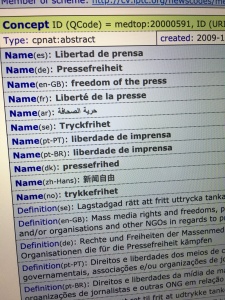 The NewsCodes Working Group is happy to announce the August 2020 update to IPTC NewsCodes.
Here's an overview of the changes in this release:
Namerole vocabulary changes
Media Topics vocabulary changes
Hierarchy changes:
Label and definition changes:
New terms:
Fix broken link and added 

FAQ about contributing suggestions.
As always, HTML browseable versions of the MediaTopics can be found at https://www.iptc.org/std/NewsCodes/treeview/mediatopic/mediatopic-en-GB.html and an Excel version at https://www.iptc.org/std/NewsCodes/IPTC-MediaTopic-NewsCodes.xlsx.
Thanks very much to our Working Group members and contributors, especially Ritzau in Denmark and Australian Broadcasting Corporation in Australia, for their suggestions and support.
Update on 16 September 2020: Chinese translations of new terms are now added.
Please note that the textual changes are currently available in the Danish (dk), Chinese (zh-Hans), English (en-GB), Portuguese (pt-PT and pt-BR for Brazil), Norwegian (no) and Swedish-language (se) versions. More translated versions of the MediaTopics NewsCodes will be made available when their maintainers have updated them.