Categories
Archives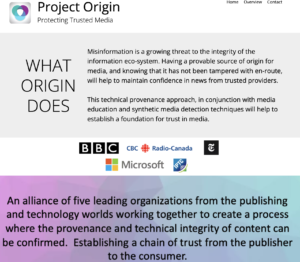 The IPTC is very happy to announce that it has joined the Steering Committee of Project Origin, one of the industry's key initiatives to fight misinformation online through the use of tamper-evident metadata embedded in media files.
After working with Project Origin over a number of years, and co-hosting a series of workshops during 2022, the organisation formally invited the IPTC to join the Steering Committee.
Current Steering Committee members are Microsoft, the BBC and CBC / Radio Canada. The New York Times also participates in Steering Committee meetings through its Research & Development department. 
"We were very happy to co-host with Project Origin a productive series of webinars and workshops during 2022, introducing the details of C2PA technology to the news and media industry and discussing the remaining issues to drive wider adoption," says Brendan Quinn, Managing Director of the IPTC.
C2PA, the Coalition for Content Provenance and Authenticity, took a set of requirements from both Project Origin and the Content Authenticity Initiative to create a technical means of associating media files with information on the origin and subsequent modifications of news stories and other media content.
"Project Origin's aim is to take the ground-breaking technical specification created by C2PA and make it realistic and relevant for newsrooms around the world," Quinn said. "This is very much in keeping with the IPTC's mission to help media organisations to succeed by sharing best practices, creating open standards and facilitating collaboration between media and technology organisations."
"The IPTC is a perfect partner for Project Origin as we work to connect newsrooms through secure metadata," said Bruce MacCormack, the CBC/Radio-Canada Co-Lead. 
The announcement was made at the Trusted News Initiative event held in London today, 30 March 2023, where representatives of the BBC, AFP, Microsoft, Meta and many others gathered to discuss trust, misinformation and authenticity in news media.
Learn more about Project Origin by contacting us or viewing the video below: