Categories
Archives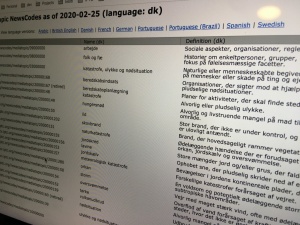 In late February we pushed the latest update to Media Topics, IPTC's main controlled vocabulary for subject classification (also known as a taxonomy).
This release includes a translation of NewsCodes into the Danish language.
On behalf of the NewsCodes Working Group and its chair Jennifer Parruci, we would like to say thanks very much to Mette-Lene Østergaard and Mads Petersen from the Danish news agency Ritzau in Denmark for all their work on making the translation.
It's available from all the usual places:
The IPTC Media Topic NewsCodes vocabulary is now available in 9 languages: Arabic, British English, Danish, French, German, Portuguese, Brazilian Portuguese, Spanish and Swedish.
We are working with partners on several more language translations coming very soon. If you would like to work with us on contributing a new language translation of IPTC Media Topics or any other IPTC standard, please contact us!